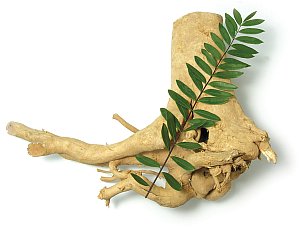 A drop in testosterone levels with unpleasant side effects affects up to 30% of men over the age of 40. In a large study with 320 patients, the effect of Tongkat Ali (botanical: Eurycoma longifolia) against the underfunction of the testicles (hypogonadism) in advanced age was investigated:
Study with 320 Patients
Andrologia. 2011 Jun 15. Doi: 10.1111/j.1439-0272.2011.01168.x. [Epub ahead of print]
Standardised water-soluble extract of Eurycoma longifolia, Tongkat ali, as testosterone booster for managing men with late-onset hypogonadism?
Tambi MI, Imran MK, Henkel RR.
http://www.ncbi.nlm.nih.gov/pubmed/21671978
The authors describe the traditional use of Tongkat Ali in Southeast Asia as a tonic and a means of improving physical strength and performance. Other common names for Tongkat Ali are Pasak Bumi and Malaysian Ginseng.
The use infolk medicine and the results of studies to increase testosterone levels and sexual activity by using Tongkat Ali on the animal model gave rise to the present study. A total of 320 patients with late-onset hypogonadism (LOH, underfunction of the testicles) participated in the study.
For a brief description of the LOH problem, see also:
Nature Reviews Urology 8, 335-344 (June 2011) | doi:10.1038/nrurol.2011.47
http://www.nature.com/nrurol/journal/v8/n6/full/nrurol.2011.47.html
Of the 320 patients, 76 received 200 mg of a standardized extract of tongkat ali (Eurycoma longifolia Jack) daily for one month. At the beginning and end of the test period, the concentration of testosterone in the blood serum of the subjects was measured. In addition, the change in the symptoms was determined using the so-called Ageing Males' Symptoms (AMS) scale.
A presentation of the AMS methodology and numerous references can be found in:
Health Qual Life Outcomes. 2003; 1: 15. Doi: 10.1186/1477-7525-1-15.
http://www.hqlo.com/content/1/1/15
Significant Improvement with Tongkat Ali
The results show that taking tongkat ali extract in patients with testicular underfunction both improved the discomfort according to the AMS scale and increased the concentration of free testosterone significantly (P<0.0001).
Before taking Tongkat Ali, only 10.5% of the patients were free of symptoms. 35.5% had testosterone levels that were still in the normal range. After a month of taking Tongkat Ali, these values in the present study were 71.7% (free of symptoms) and 90.8% (normal testosterone levels).
Conclusion
The authors conclude that tongkat ali extract can be used as an effective supplement against the symptoms of age-related underfunction of the testicles and for healthy testosterone levels.
CORENBERG® Supplement Essentials is an Austrian company that provides exclusive food supplements for an active lifestyle full of energy, for stress relief, and for improved regeneration. Free express shipping EU-wide with DPD. Fast and free delivery to Switzerland, Liechtenstein and Norway.