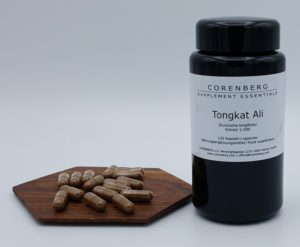 Tongkat Ali can be bought now easily and quickly via the internet. But what really matters with Tongkat Ali? Different varieties are offered, the amount of Tongkat Ali per capsule is not always clear. Some retailers do not provide any more precise information about their product.
In this article, we will therefore discuss the most important points when purchasing Tongkat Ali.
Tongkat Ali Extract or Root Powder?
Tongkat Ali is actually a name for a tree that occurs in Indonesia and Malaysia. It is also known as Pasak Bumi or Long Jack, whose scientific botanical name is Eurycoma longifolia. Tongkat Ali is also the folk medicine product, which is derived from the root of the tree. Today, this is highly valued as a dietary supplement.
Preparations consist of an extract from the root. For this purpose, the crushed root is cooked. Originally, the brew was also drunk directly as tea. In the modern form as a food supplement, the brew from the Tongkat Ali root is filtered and purified. The water is then removed and the residue is processed into fine powder, the Tongkat Ali extract. This extract is then usually filled in capsules or sealed airtight in pouches for wholesale.
Frequently Tongkat Ali products are offered, which on closer inspection turn out to be just root powder and not extract. In this form, a very small amount of active ingredients per serving is to be assumed. The extraction process described above serves precisely to enrich the substances contained in the root in a concentrated extract. It is unlikely that there are any noticeable positive effects when taking ground root.
When buying Tongkat Ali, therefore, care should be taken to ensure that it is extract and not just ground root.
Tongkat Ali 1:200, 1:100, 1:50. What Does That Mean?
Often you will also find cryptic information like this when buying Tongkat Ali. However, these are only the names for the strength of the extract types commercially available, i.e. for the concentration of the extract. For example, Tongkat Ali 1:200means that 200 grams of root have been processed for 1 gram of the extract.
It is therefore to be assumed that the active ingredient quantity is higher in extract with the designation 1:200 than for example in an extract 1:100 or even 1:50. For these varieties only 100 grams or 50 grams of root for 1 gram of extract are used.
Tongkat Ali products with a concentration of 1:100 or 1:50 are usually slightly cheaper than those with the highest concentration of 1:200. However, we recommend concentration 1:200, as it gives you the best price-performance ratio in relation to the amount of raw material processed.
We would generally advise you against products that are not at all clear whether it is extract from the tongkat ali root or just shredded root material.
Should I Buy Tongkat Ali Capsules or Powder in Pouches?
Sometimes Tongkat Ali extract is also offered as powder in pouches. While such offers may well be genuine extracts, the minimum purchase quantities offered are usually quite high. In addition, taking tongkat ali extract without capsule is not for everyone. The extract usually tastes very bitter, especially at higher concentrations. The most tolerable is still taking with orange juice. However, when taking tongkat ali extract not in capsules, careful attention should be paid to the amount, severe overdoses should be avoided.
Desirable Information About the Product
What information about Tongkat Ali should a reputable seller at least provide?
Type of content (extract or root powder)
Information on the concentration of the extract
Filling quantity per capsule
Material of the capsule (gelatin, cellulose (vegetarian), …)
Number of capsules per pack
Recommended dosage (how many capsules per day, for non-encapsulated products: how many milligrams per day), distribution over the day etc.
If such information is missing, then we advise scepticism. Ultimately, it is unclear what exactly the product is.
Conclusion on Where to Buy Tongkat Ali
Buying Tongkat Ali is largely a matter of trust. However, there is a whole range of informationthat reputable sellers usually provide. In the absence of further information on the content in full, we would not assume a trustworthy offer and recommend a different product. Based on the information described above, it is more likely to tell whether you are buying real Tongkat Ali. Therefore, please pay attention to this information, especially with supposedly cheap offers on the internet!
CORENBERG® Supplement Essentials is an Austrian company that provides exclusive food supplements for an active lifestyle full of energy, for stress relief, and for improved regeneration. Free express shipping EU-wide with DPD. Fast and free delivery to Switzerland, Liechtenstein and Norway.
Related articles in the CORENBERG health blog:
Tongkat Ali: New study on the effect of testicular dysfunction