Description
Due to the current interpretation of an EU regulation (Novel Food Regulation (EU) 2015/2283), we explicitly sell this product to customers in the EU only as ethnobotanical illustrative material, which is not suitable for human consumption within the EU. However, this is the same product that is available to customers outside the EU as a food supplement. It is to this that the following description refers.
CORENBERG® Tongkat Ali Extract 1:200 capsules are an ideal dietary supplement for men with high performance awareness and high demands on their quality of life.
Tongkat Ali (Eurycoma longifolia Jack, Longjack, Pasak Bumi) originates from Malaysia and Indonesia and has been used there for centuries as a tonic for men and to promote virility.
An exclusive food supplement for men with high performance requirements. Tongkat Ali can be part of a successful strategy against declining testosterone levels. It is often used to combat the consequences of the andropause. Supports a healthy energy level and fat reduction through exercise.
CORENBERG® Tongkat Ali Extract 1:200:
For men with an active lifestyle
For an energetic everyday life
Supports healthy testosterone levels
Popular with hobby and professional athletes. The Fitness Supplement
We provide Tongkat Ali in our online shop ready filled in capsules. CORENBERG® Tongkat Ali Extract is a fine light brown to dark brown powder with a distinct bitter taste. The raw material for our product comes from Indonesia.
Packed in Austria. Free shipping. Shipped in neutral packaging.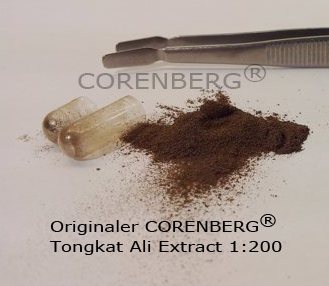 Food supplement:
120 capsules per pack
370 mg extract Tongkat Ali 1:200 from Eurycoma longifolia root per capsule
capsule shell: gelatine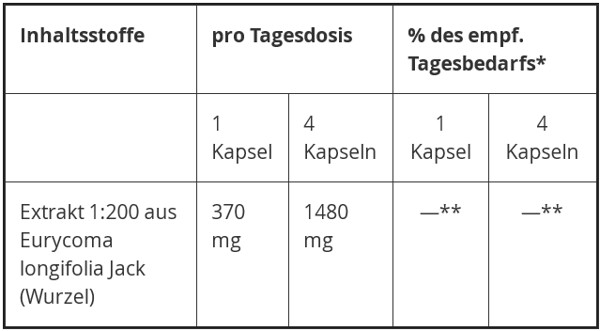 * according to EU Directive on nutrition labelling of foodstuffs
** No recommendation available
Not suitable for pregnant and breastfeeding women.
Consumption Recommendation
We recommend taking 1-2 capsules 2 x daily with plenty of liquid. The recommended daily dose of maximum 4 capsules should not be exceeded. It is important to consume Tongkat Ali consistently for some time. Typically, you will benefit optimally after about 1 to 3 weeks of continuous use.
Instructions for use
Take CORENBERG® Tongkat Ali Extract 1:200 about 30 minutes before a meal on an empty stomach.
We recommend CORENBERG® Tongkat Ali Extract 1:200 to be taken in cycles:
For regular use over a long period of time, a schedule of 5 days on (e.g. Mo-Fr) and 2 days (Sat/Sun) off has proven to be effective.
Athletes who use CORENBERG® Tongkat Ali Extract 1:200 to support their training prefer to take the maximum dose continuously for 8 weeks with a 4 week break afterwards. This cycle is repeated several times for optimal results. Strength athletes often increase the maximum daily dose to up to 12 capsules (4 capsules each morning, noon, evening).
Occasionally Tongkat Ali is also used very successfully by women. We recommend women not to exceed half the dosage (max. 2 capsules or 740 mg Tongkat Ali Extract 1:200) per day when taking Tongkat Ali.
Important information for the use of food supplements:
Do not exceed the stated recommended daily dose.
Food supplements should not be used as substitutes for a varied, balanced diet. Keep in a cool dry place out of direct sunlight. Store out of the reach of young children.
Our descriptions and other information about the products do not serve the purpose of diagnosis, treatment, healing or prevention of an illness or a state of health.