Description
CORENBERG® MANN capsules contribute to the maintenance of normal testosterone levels in the blood.

CORENBERG® MANN capsules:
Maintenance of normal testosterone levels
For more energy and drive
To improve stress- or age-induced low testosterone levels
For a strong libido
Highly effective zinc bisglycinate contributes to the maintenance of normal testosterone levels in the blood. Maca root, native to South America, has long been used as a tonic and to increase potency. In MANN capsules Maca is used as a 4:1 root extract. Cordyceps sinensis, in turn, originates from Asia and is effectively used to strengthen manhood and increase energy. Extracts from Tribulus terrestris and fenugreek serve to promote male drive and libido. The amino acid L-citrulline plays an important role in the urea cycle and in nitric oxide synthesis (NO synthesis), which in turn has an influence on blood flow. L-histidine, also an amino acid, is believed to have a positive influence on the immune system, blood pressure and blood circulation. L-selenomethionine contributes to the maintenance of normal thyroid function and normal immune system function. Furthermore, L-selenomethionine contributes to normal sperm formation and protection of cells from oxidative stress. Finally, red ginseng from Asia is considered a wonder weapon against aging processes and has been used for thousands of years as a tonic for men.
Made in Austria. Free shipping. Shipped in neutral packaging.
Food supplement:
120 capsules per pack
capsule shell: cellulose (vegan)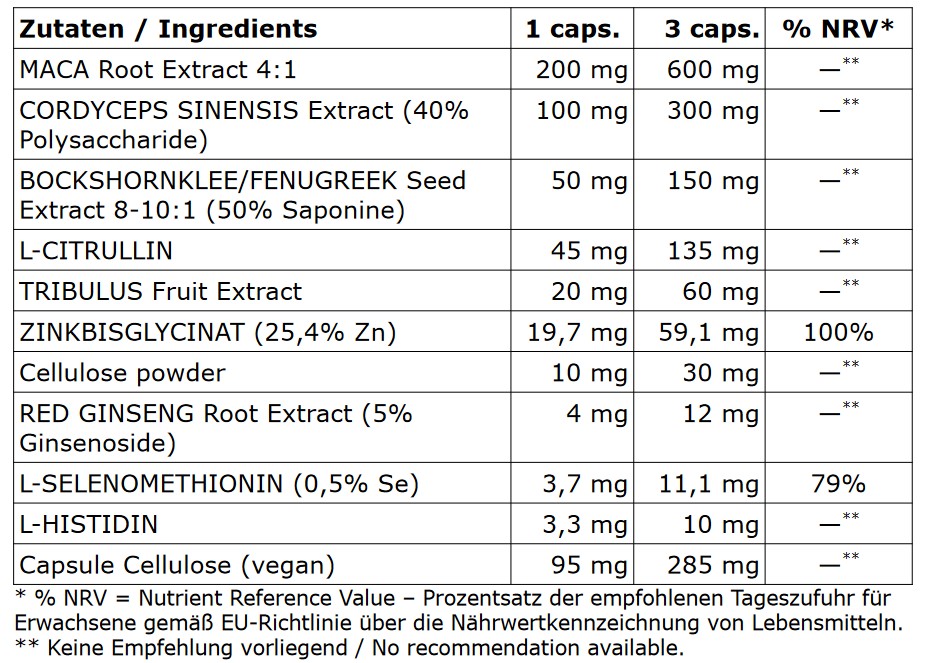 Not suitable for pregnant and breastfeeding women.
Consumption Recommendation
We recommend taking up to 3 capsules a day with liquid. Best taken with food. The recommended daily dose should not be exceeded. Typically, you will benefit optimally after about 1 to 3 weeks of continuous use.
Important information for the use of food supplements:
Do not exceed the stated recommended daily dose.
Food supplements should not be used as substitutes for a varied, balanced diet. Keep in a cool dry place out of direct sunlight. Store out of the reach of young children.
Our descriptions and other information about the products do not serve the purpose of diagnosis, treatment, healing or prevention of an illness or a state of health.