Description
CORENBERG® Kacip Fatimah Capsules are an ideal dietary supplement for women with an active lifestyle and high demands on their quality of life.
NEW: Free express shipping EU-wide with DPD!
The purely vegetable Kacip Fatimah (Labisia pumila) originates from Malaysia and Indonesia. It is traditionally used in this region by women to promote general vitality, vitality and hormonal balance.
The plant is rich in phytoestrogens and other bioactive substances.
Kacip Fatimah is often used as a dietary supplement to combat the effects of menopause. Supports a healthy energy level and fat reduction through exercise. Kacip Fatimah is also appreciated in the traditional medicine of Malaysia as a natural remedy against sexual aversion in women.
CORENBERG® Kacip Fatimah Extract 1:100 is the ideal food supplement for women with:
an active lifestyle
high demands on one's own quality of life
the desire for hormonal balance
an active lifestyle

high demands on one's own quality of life

the desire for hormonal balance
We buy our Kacip Fatimah Extract directly from the country of origin Indonesia without any middlemen. By carefully selecting our suppliers we can ensure the high quality of the product.
Packed in Austria. Free shipping EU-wide and to Switzerland!
Food supplement:
100 capsules
400 mg extract 1:100 of Kacip Fatimah (Labisia pumila) per capsule
Capsule shell: Gelatine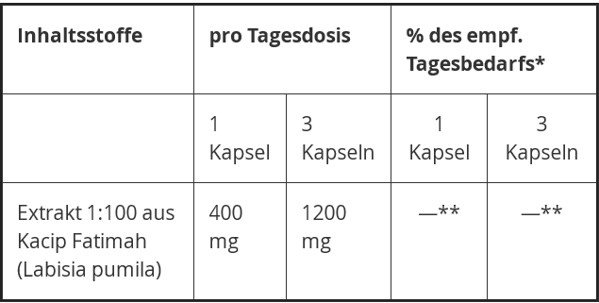 * according to EU Directive on nutrition labelling of foodstuffs
** no recommendation available
Not suitable for pregnant and breastfeeding women.
Consumption Recommendation
We recommend taking up to 3 capsules a day with plenty of fluids. Ideally, it should be taken in the morning and evening, e.g. 2 capsules in the morning and 1 capsule in the evening. The recommended daily dose of maximum 3 capsules should not be exceeded. It is important to take the capsules regularly. Typically, you will benefit optimally from about 1 to 3 weeks of continuous use.
Instructions for use
Take CORENBERG® Kacip Fatimah Extract 1:100 approx. 30 minutes before a meal on an empty stomach, as this is the best way to take it. We recommend taking CORENBERG® Kacip Fatimah Extract 1:100 in cycles:
The continuous intake over at least 8 weeks with a subsequent break of 4 weeks has proven to be effective. This cycle can be repeated as often as desired.
Important information for the use of food supplements:
Do not exceed the stated recommended daily dose.
Food supplements should not be used as substitutes for a varied, balanced diet. Keep in a cool dry place out of direct sunlight. Store out of the reach of young children.
Our descriptions and other information about the products do not serve the purpose of diagnosis, treatment, healing or prevention of an illness or a state of health.